If you consider yourself a Priestess, shaman, seer, wisdom keeper, midwife, healer, empath, clairvoyant, etc…  you have likely had no form of guidance, mentorship or initiatory rites of passage in your life to understand your gifts.
Do you recognize the STRENGTH it requires to learn how to work with this on our own?
Ancient cultures and Indigenous peoples have always offered deep support through training, guidance and mentorship to those who showcased certain abilities…
In the West, we are forced to figure out our gifts on our own, usually in secrecy and likely, a lot of fear.
Priestesses of the Goddess used to be raised in the temples, from an early age, to learn how to work with their gifts and be immersed in these teachings and understandings. They were *REVERED* and highly respected in the public eye. Can you IMAGINE?
My Goddess, what I would give to have learned how to use my gifts at an early age, instead of having to figure it out on my own.
In the vast majority of cases, our ancestors were scared into silence (suppression which eventually turned into denial) or killed off. This left us with no teachers to thoroughly and properly guide us.
There has been an enormous amount of trauma associated with the Priestess (in this timeline and throughout the last 3,000 years) through the rise of the Patriarchy, which destroyed our Temples, ways of life and in many cases, literally took our lives.
People who showcased any knowledge of healing, clairvoyance, or honoring the Goddess in any way, from 1200 AD – 1600 AD would have been publicly killed: stoned, hung, burnt… often in the TOWN SQUARE for all to see. In the last 100 years, the patriarchal answer is to label us as crazy, psycho, paranoid, (still even called devil worshippers, in some cases). As if the labeling wasn't enough, in some cases, we will be put on drugs to silence the gnosis, or worse, put in psych wards….
… so what have we learned from this? OUR GIFTS ARE NOT SAFE. We shrink. We pretend they don't exist. We hide and pretend we can keep pushing them down and ignore our soul nudges, over and over. But, deep down, we know that we can't. They are a part of us.
So, how do we celebrate our gifts (and master them) in a world that doesn't yet see the true value? That doesn't yet honor our way of life? That doesn't celebrate the Feminine and her deep magick? When we might feel incredibly unsafe doing so?
….Celebrate, honor and SHARE TF OUT OF YOUR GIFTS anyways. Trust that they hold a VITAL key to us changing the vibration of the planet.
It doesn't matter who judges you, who misunderstands, who devalues you… celebrate your gifts and who you are. Know that this will change and the work is more important than we could ever imagine.
Our gifts as Seers, Healers, Midwives, Herbalists, Prophets, Shamans, Initiators are extraordinarily valuable. We just live in a highly toxic world that doesn't see the value (yet).
Our work will bring the Full Return of the Feminine (aka honoring our Selves, Mama Earth and all sentient beings)… starting to activate the path to the next Golden Age. It's kind of a big deal.
Two videos that will support you in reclaiming your gifts & truly understanding the power of them…
1. If you're curious about what the term "Priestess" means and if it applies to you (plus some interesting tidbits about the Priestess lineage across cultures), watch this video.
2. If you already recognize yourself as a Priestess, Healer, Shaman, Seer, Midwife, Oracle, etc, but feel undervalued – WATCH THIS. It will help and serve as a really important reminder for you. Promise! Watch the video here.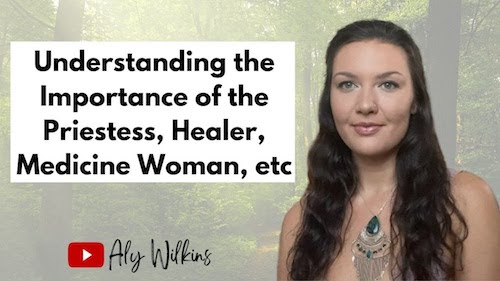 If you can feel the trauma of holding these gifts, whether you call yourself a Priestess, or something else, I have something for you…
The Priestess Returns Mystery School includes:
4 weekly modules, teaching about each face of Mary Magdalene that support healing a deep Priestess Wound
You'll reclaim your Priestess AND learn how to heal the wounding associated with the immense trauma we've experienced (in this lifetime and in countless previous lifetimes). You can learn more about it here. The container opens 8/11! Psssst this is one of my lowest cost offerings I've released in a LONG time, esp with the Early Bird discount. I hope you take advantage if this is calling to you!
REMEMBER YOUR POWER AND IMPORTANCE. Priestess Out 🙂
Thank you for reading! If you'd like to receive my e-mails, you can join my community here. Wishing you abundance, love & all things magical, 
🌹 Aly Wilkins – alywilkinsabundance@gmail.com
Want to work with me?
𓆃 Book an Akashic Reading
𓆃 Apply for 1:1 Mentorship
𓆃 Explore Current Offerings
𓆃 Shop the Online Store